Links to Corpus Christi Visitor's Bureau videos starring one our our residents and his wife.
Video 2 
Corpus Christi is the eighth largest city in Texas with a metropolitan population of over 350,000 residents. It is located in South Texas along the Gulf of Mexico. It is a coastal paradise where year-round recreational opportunities abound including hiking, biking, jogging, camping, swimming, wind surfing, parasailing, kite boarding, sailing, golfing, and fishing. Many emergency medicine residents enjoy beach living on Padre Island, only a 20-minute commute to Christus Spohn Hospital Memorial. Corpus Christi is home to the Corpus Christi Naval Air Station, Texas A&M-Corpus Christi, and the Padre Island National Seashore.
Weather
Corpus Christi has a subtropical climate, enjoying similar temperatures to those of other Gulf Coast regions, but lower precipitation as it is located in a semiarid region. Average high temperatures in the summer months exceed 90°F (32°C), while average nighttime winter lows in January, the coldest month, are a little less than 50°F (10°C). An average winter has only 2-3 nights with a low temperature below freezing. Corpus Christi is also known for its warm breezes and is a great place to learn to windsurf or kite board.
Attractions
The city is home to a number of popular destinations for both tourists and residents. Some of the most visited attractions are on North Beach where the Texas State Aquarium and the USS Lexington Museum on the Bay are located. Nearby is Corpus Christi's museum district. Located there are the Museum of Asian Cultures, Corpus Christi Museum of Science and History, the South Texas Institute for the Arts, and the Harbor Playhouse theatre, one of the oldest continually operating community theatres in the State. Heritage Park is also in the museum district where a number of older restored houses can be found. The downtown area, of which the museum district is a part, is home to skyscrapers, companies, various shops, and a very popular center of marinas. Downtown also is home to the Texas Surf Museum which explores the history of surfing and focuses on surf culture along Texas' 367-mile coast. Also in the city is the Corpus Christi Botanical Gardens and Nature Center which hosts gardening programs from time to time.
Directly east of Corpus Christi are Padre Island and Mustang Island, home to various municipal, state, and national parks, most notably Padre Island National Seashore. The city is also near the King Ranch, one of the world's largest ranches. 
South Padre Island Drive (locally abbreviated as "S.P.I.D." with the letters pronounced individually), is the city's main retail corridor, with two shopping malls, Sunrise Mall, and La Palmera Mall. Soon to come is the Crosstown Commons which will be the largest mall to date and is expected to have many more major retailers and greater attendance. Also, a number of other large shopping centers, small strip centers, and restaurants can be found throughout the city.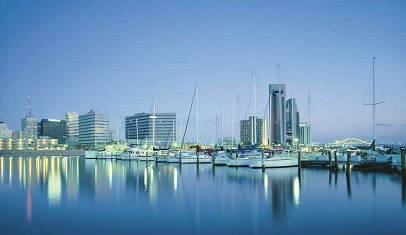 Downtown and the Marina
Economy
The Port of Corpus Christi, which is the sixth largest US port and deepest inshore port on the Gulf of Mexico, handles mostly oil and agricultural products. Much of the local economy is driven by tourism and the oil & petrochemicals industry. There is also a strong fishing industry.
Corpus Christi is home to two installations of the United States military, the Corpus Christi Army Depot and Naval Air Station Corpus Christi. Combined, these installations provide 6,200 civilian jobs to the local economy, making them the single largest employer in the city. Corpus Christi Army Depot, located on NAS Corpus Christi, is the largest helicopter repair facility in the world. 
Large employers include the Corpus Christi Independent School District with 5,355 local employees, Christus Spohn Health System with 4,500 employees and the H.E.B. Grocery Company with 2,200 employees.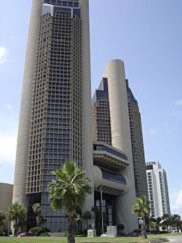 One Shoreline Plaza
Education
Corpus Christi is home to several institutions of higher learning including Del Mar College and Texas A&M University-Corpus Christi. Five school districts provide primary and secondary education for area residents: Corpus Christi Independent School District, Calallen ISD, Flour Bluff ISD, Tuloso-Midway ISD, and West Oso ISD. The Roman Catholic Diocese of Corpus Christi provides primary and secondary education for Catholic schools.