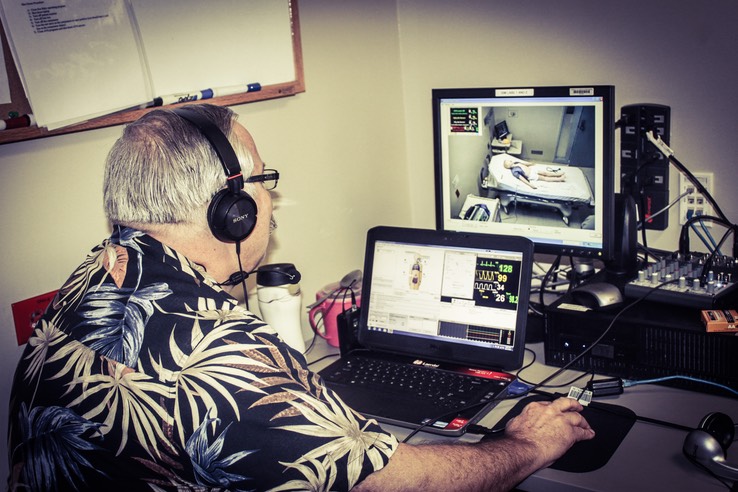 The Simulation Center is located on the 2nd floor of CHRISTUS Spohn Hospital Memorial and provides emergency medicine residents with state of the art simulation training.  Each simulation manniquin is located in an actual hospital room and provides a realistic training environment.   The center, developed by emergency medicine faculty, provides scenario-based training opportunities in a structured but non-threatening learning environment.  
We have successfully integrated simulation based learning into our residency curriculum. Residents participate in weekly simulation encounters with real-time feedback and instruction from emergency medicine faculty and the simulation coordinator in a small group setting.  Additionally, residents meet bimonthly to complete a simulation experience to identify patient care strengths and weaknesses for each individual resident.
We have been active in Simulation Medicine on a local and national level. Our residency program was chosen to compete in the EMRA SIMWARs at the 2010 ACEP Scientific Assembly in Las Vegas, Nevada and at the Texas College of Emergency Physicians annual meeting in Galveston, Texas last year.  We competed at TCEP again this year in Frisco, TX and head to Seattle for the EMRA sponsored SIMWARS in October 2013. Locally, we conduct a Corpus Christi Emergency Medicine Residency SIMWARs each spring where every resident competes on a team to manage simulated patient scenarios before a live audience. We are actively conducting research in the simulation setting.
We are fortunate to have received a large grant aimed at creating a premier Simulation Center in South Texas. Our extensive simulation equipment currently includes infant, pediatric and adult simulation models as well as obstetrical and ultrasonographic models. Construction of a new simulation facility is currently underway.
We offer a Simulation Medicine resident elective for residents with an interest in this evolving educational modality.
Our Simulation Center is overseen by Steven Butler, our simulation coordinator.